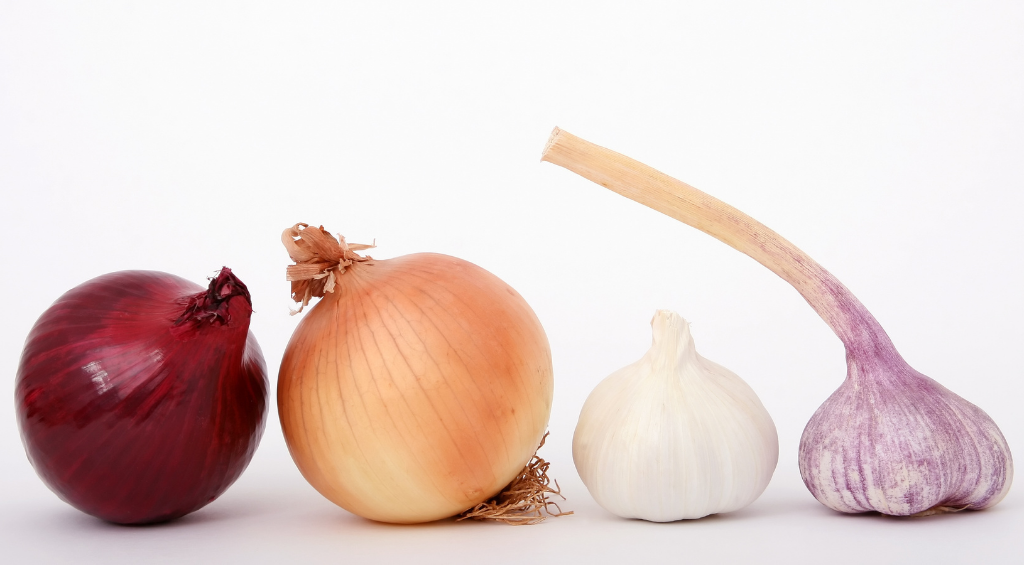 Onion, a particular vegetable known to have a love-hate relationship for some. Some people, shy away from eating it due to the strong, pungent smell as it easily messes up our taste buds and the bad breath that came along with it, while others enjoy consuming onions because it enhances the flavors of the dish. Onions have been one of the main ingredients in numerous foods that we know and love. They are usually served cooked but they can also be eaten raw and are used in pickles. Whether raw or cooked, they are loaded with benefits. Some of these benefits might be particularly interesting for the ladies.
Onions protect the skin
Onions are nutrient-dense vegetables which mean they are low in calories, fat, cholesterol and sodium, but high in vitamins and minerals. This vegetable is an excellent source of Vitamin A, B, C and E which are useful for protecting the skin from free radicals. The vitamin C will accelerate production of collagen and elastin which keep the skin plum and firm. Furthermore, onions' anti-bacterial effect helps in treating skin allergies and onion's antibiotic effect can accelerate the healing of a wound.
Onions protect from free radicals
This particular vegetable contains antioxidants that can protect you against free radicals. Free radicals are unstable molecules caused by factors such as exposure to pollution, stress, and even aging, that can damage the cells of the body. Antioxidants in onions can also act as a natural anti-aging component and an additional care for the skin, such as reducing inflammation and allowing the skin to correct visible damage.
May contribute to weight loss
Onions are also a rich source of fiber and prebiotics. Fibers and prebiotics are important for gut health which in turn will increase the health of the digestive system. These fibers and prebiotics will help the body burn excessive fats. Having onions in your diet may not induce weight loss directly, but using them as substitute for high-calorie meals may contribute to weight loss. In addition to helping weight loss, onions help the body's digestive system in other ways listed below.
It can control blood sugar level
The nutrients and contents inside onions help in controlling blood sugar levels, which can help people with diabetes or prediabetes. Studies show that people with diabetes or high blood sugar levels have higher chances of having dry skin than people with normal sugar levels. A study was done on diabetic rats that fed food containing 5% onion extract for 28 days. The study showed that the rats experienced decreased fasting blood sugar and had substantially lower body fat than the control group. From the study done, it is safe to say that consuming onion extract, can help lower the blood sugar level and as a result, lowering the chance of having dry skin.
May increase immunity
As mentioned before, onions contain a high amount of vitamin C and other minerals. Vitamin C can help in decreasing the level of stress hormones, which is a great advantage against the pandemic stress. Stress might have adverse effect on several bodily process such as production of hormones, menstruation cycle, fertility, immunity, and digestion. Hormone levels would also influence your brain function, circadian rhythm, and immune system. Abnormally high blood pressure can also be lowered by the regular intake of vitamin C. Onions are also rich in manganese which offers protection against cold and flu.
Here are few of the best ways to reap the maximum benefit of onions:
Onion tea: This tea acts a quick remedy for your cold and other illnesses. Making the tea is as simple as removing the onion peel, cutting and boiling it in the water for 4 minutes and drinking the water. You can also add other ingredients like ginger and honey for better taste.
Raw Onion: If you can eat raw onions, it is one of the best ways to get the nutrients in onions. Take slices of raw onion into a bowl, squeeze lime juice on them and sprinkle a little pink Himalayan salt. Eat this as a side for lunch or dinner or you can add them to your salad.
Onion-honey syrup: For prevention in the flu season, this syrup works wonders for common cold symptoms. Slice an onion, add it to a saucepan, and add half a cup of honey. Gently heat until the onions turn soft and translucent. Take a spoonful of this syrup every 3 to 4 hours.
Onion face mask: Who doesn't want to be protected from premature aging? This mask will do the trick! All you need are 2 tablespoons of gram flour, ½ teaspoon of milk, 1 ½ tablespoons of onion juice (freshly extracted), and a pinch of nutmeg. Mix the ingredients until you got a thick paste. Add extra milk if the paste becomes too thick and add few drops of lavender essential oil in case the smell is too much to take. Make sure to do a patch-test before, in case of allergies. Clean your face and apply the mask. After it dries, remove it by gently massaging it off the skin with milk. Not only will this mask add glow to your skin, it will also exfoliate it.
In conclusion, consuming onions is generally beneficial for your body. It contains a lot of nutrients as well as antibacterial properties that not only promote digestive health, but also increases immune function. Onions also provide extra benefits such as anti-aging properties, help with weight loss, as well as preventing dry skin. Not only is it beneficial, it's also easy to incorporate into your own diet. One of the many famous foods that has been enjoyed by many would be onion rings, but if you want to reap the most out of onions, then onion juice is a better choice. It is also one of the drinks that was featured inside our Memories' game in one of the stories, Red White Cinderella!
If you are interested to find out more about what kind of dishes containing onion inside the story, you can try and download the game yourself here: https://memories-game.onelink.me/G59O/blogglobal